[Innate immunity and human diseases: from archaic introgression to natural selection].
Immunité innée et maladies chez l'homme : de l'introgression archaïque à la sélection naturelle
Throughout evolution, humans have had to face strong variation in environmental conditions, with pathogens being among the strongest threats that our species has encountered. The use of population genetic approaches provides novel insights into how natural selection imposed by pathogen pressures, in its different forms and intensities, has shaped the patterns of diversity of the human genome at the population level. These studies help to distinguish genes playing essential, non-redundant functions in host defence from genes variation in which has conferred selective advantages to specific human populations and/or has been acquired through admixture with archaic hominins, such as Neandertals. However, with the improvements in hygiene and the advent of antibiotics and vaccination, pressures imposed by pathogens have recently been relaxed. Accumulating evidence suggests that alleles having conferred an advantage against infection in the past may nowadays be associated with increased risk to develop immune-related disorders, such as autoimmunity and inflammation.
Les pressions de sélection exercées par les pathogènes ont participé à façonner la variabilité du génome humain au cours de notre évolution. Les approches de génétique évolutive et de génétique des populations permettent d'étudier la forme et l'intensité de ces forces évolutives. Ces études ont mis en évidence l'importance fonctionnelle de certains gènes, l'implication d'autres dans l'adaptation de l'homme à son environnement pathogénique, ainsi que le maintien d'allèles archaïques supposés avantageux pour notre espèce. Cependant, avec l'avènement de traitements préventifs et curatifs, la sélection exercée par les pathogènes s'est récemment relâchée et des allèles ayant conféré un avantage à nos ancêtres se révèlent parfois être impliqués dans des troubles du système immunitaire, comme l'auto-immunité et l'inflammation.
Fichier principal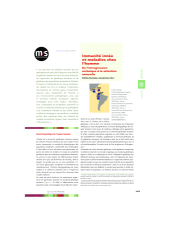 medsci20163212p1079.pdf (1.37 Mo)
Télécharger le fichier
Origin : Publisher files allowed on an open archive