Beyond the bounds of evolution: Synthetic chromosomes… How and what for?
Au-delà des limites de l'évolution : les chromosomes synthétiques… Comment et pourquoi faire ?
Chromosome synthesis is still at its early stage. The budding yeast Saccharomyces cerevisiae is an organism of choice with respect to this field, thanks to its efficient homologous recombination pathway. By iteratively concatenating short DNA molecules to ultimately generate large sequences of megabase size, these approaches allow piecing together multiple genes and genetic elements in a way designed by an individual prior to their assembly. They therefore hold important promises as a tool to design complex genetic systems or assemble new genetic pathways that allow addressing fundamental and applied questions. The constant drop in DNA synthesis costs, fed by the development of new technologies, opens new perspectives with respect to the conceptual way these questions can be addressed. Thanks to its properties, S. cerevisiae may provide solutions for chromosome synthesis in other organisms, in combination with genome editing techniques.
Les chromosomes synthétiques sont une technique récente. La levure de boulangerie Saccharomyces cerevisiae est un organisme de choix dans ce domaine, notamment grâce à une voie de recombinaison homologue très efficace. Par concaténation itérative de molécules d'ADN courte, ces approches permettent de générer finalement de grandes séquences de plus d'un million de bases. Les gènes et éléments génétiques présents sur ces molécules sont définis par un individu préalablement à leur assemblage. Elles représentent donc d'importantes promesses comme outils pour concevoir des systèmes génétiques complexes ou assembler de nouvelles voies génétiques qui permettent de répondre à des questions fondamentales et appliquées. La baisse constante des coûts de synthèse d'ADN, alimentée par le développement de nouvelles technologies, ouvre de nouvelles perspectives par rapport à la manière conceptuelle dont ces questions peuvent être abordées. Grace à ses propriétés, S. cerevisiae pourrait vraisemblablement représenter une solution à la synthèse de chromosomes dans d'autres d'espèces, notamment en combinaison avec des techniques d'édition de génome.
Fichier principal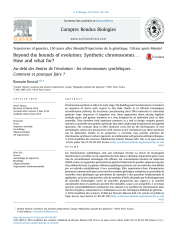 1-s2.0-S1631069116300622-main.pdf (421.81 Ko)
Télécharger le fichier
Origin : Publication funded by an institution