[IRIS: a paradoxical inflammatory reaction in patients treated simultaneously for tuberculosis and HIV].
L'IRIS : une réaction inflammatoire paradoxale chez les patients traités simultanément pour une tuberculose et une infection par le VIH
Co-infection with Mycobacterium tuberculosis (Mtb) and human immunodeficiency virus (HIV) represents a major threat to public health worldwide. The treatment of patients coinfected by Mtb and HIV is often complicated by the occurrence of an immune reconstitution inflammatory syndrome (IRIS), resulting in the unexpected resumption of tuberculosis symptoms after the initiation of antiretroviral therapy. IRIS is associated with a rapid reconstitution of CD4(+) T cell responses specific for Mtb, which is promoted by the control of HIV replication and a high concentration of available interleukin-7. Macrophages, whose activity is suddenly stimulated by CD4(+) T cell help, respond by an exacerbated inflammatory response in Mtb-rich tissues. A major research objective remains to identify biomarkers which could allow a reliable prediction of IRIS occurrence, in order to optimize medical care for the many patients affected by both HIV and tuberculosis in resource-limited settings.
Le traitement des patients co-infectés par le bacille de la tuberculose et le virus de l'immunodéficience humaine (VIH) est fréquemment compliqué par la survenue d'un syndrome inflammatoire de reconstitution immune (IRIS), qui se manifeste par une reprise inattendue des symptômes de la tuberculose après la mise sous traitement antirétroviral. L'IRIS est associé à une reconstitution rapide des réponses T CD4+ spécifiques du bacille tuberculeux, facilitée par le contrôle de la réplication du VIH et une concentration élevée en interleukine-7 disponible. Les macrophages, dont l'activité est soudain stimulée par l'aide des T CD4+, produisent une réponse inflammatoire exacerbée dans les tissus riches en bacilles. Un enjeu majeur de la recherche reste d'identifier les biomarqueurs qui permettraient de prédire la survenue de l'IRIS, afin d'optimiser la prise en charge des nombreux patients atteints à la fois par le VIH et la tuberculose.
Fichier principal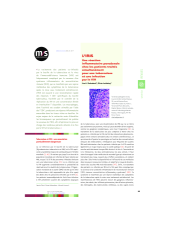 chakrabarti-lortholary-IRIS-review-medsci20153101p53.pdf (1.14 Mo)
Télécharger le fichier
Origin : Publisher files allowed on an open archive