MDM2 285G>C and 344T>A gene variants and their association with hepatocellular carcinoma: a Moroccan case-control study
Background
MDM2 gene polymorphisms 285G/C and 344 T/A are two single nucleotide polymorphisms (SNPs) recently identified as important variants that could influence the expression of MDM2 gene through the modulation of transcription factors binding on the SNP309T/G. The 285C variant seems to present a geographically distinct distribution in humans and to be associated with a low cancer risk. In the present report, we studied the distribution of the three SNPs in a population with low liver cancer incidence.
Methods
A group of 119 patients with hepatocellular carcinoma (HCC, 63.45 ± 12.59 year, 26-80) and another of 103 non-HCC controls (56 ± 10.82 year, 22-79) were enrolled to investigate association between MDM2 polymorphisms and susceptibility to develop HCC. The three studied SNPs (285G/C, 309 T/G and 344 T/A) were genotyped using polymerase chain reaction and sequencing techniques.
Results
Genotypes and alleles distributions of the three studied polymorphisms of MDM2 were not significantly different between cases and controls. An increased risk of HCC development was found in case of 309G allele presence albeit without reaching the significance (29.8% vs 22.3%, OR = 1.48, 95% CI, 0.96-2.27, p = 0.073). In addition, neither 285C nor 344A MDM2 variants were significantly associated with an increased risk of HCC (p = 0.688 and p = 1 respectively). Remarkably, we found that the supposedly Caucasian-specific 285C variant was present in 1% of the Moroccan population.
Conclusions
This is the first study of the MDM2 SNP285G/C and SNP344T/A polymorphisms in association with HCC development. In contrast with previous studies, showing that females carrying SNP285C variant have a significantly reduced risk of developing breast, ovarian and endometrial cancer, no significant modulation of HCC risk was found in a North-African population.
Fichier principal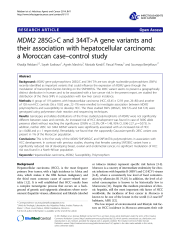 1750-9378-9-11.pdf (216.81 Ko)
Télécharger le fichier
1750-9378-9-11.xml (51.85 Ko)
Télécharger le fichier
Origin : Publisher files allowed on an open archive