Virus replicon particle based Chikungunya virus neutralization assay using Gaussia luciferase as readout
Background
Chikungunya virus (CHIKV) has been responsible for large epidemic outbreaks causing fever, headache, rash and severe arthralgia. So far, no specific treatment or vaccine is available. As nucleic acid amplification can only be used during the viremic phase of the disease, serological tests like neutralization assays are necessary for CHIKV diagnosis and for determination of the immune status of a patient. Furthermore, neutralization assays represent a useful tool to validate the efficacy of potential vaccines. As CHIKV is a BSL3 agent, neutralization assays with infectious virus need to be performed under BSL3 conditions. Our aim was to develop a neutralization assay based on non-infectious virus replicon particles (VRPs).
Methods
VRPs were produced by cotransfecting baby hamster kidney-21 cells with a CHIKV replicon expressing Gaussia luciferase (Gluc) and two helper RNAs expressing the CHIKV capsid protein or the remaining structural proteins, respectively. The resulting single round infectious particles were used in CHIKV neutralization assays using secreted Gluc as readout.
Results
Upon cotransfection of a CHIKV replicon expressing Gluc and the helper RNAs VRPs could be produced efficiently under optimized conditions at 32°C. Infection with VRPs could be measured via Gluc secreted into the supernatant. The successful use of VRPs in CHIKV neutralization assays was demonstrated using a CHIKV neutralizing monoclonal antibody or sera from CHIKV infected patients. Comparison of VRP based neutralization assays in 24- versus 96-well format using different amounts of VRPs revealed that in the 96-well format a high multiplicity of infection is favored, while in the 24-well format reliable results are also obtained using lower infection rates. Comparison of different readout times revealed that evaluation of the neutralization assay is already possible at the same day of infection.
Conclusions
A VRP based CHIKV neutralization assay using Gluc as readout represents a fast and useful method to determine CHIKV neutralizing antibodies without the need of using infectious CHIKV.
Fichier principal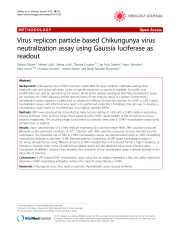 1743-422X-10-235.pdf (1.23 Mo)
Télécharger le fichier
1743-422X-10-235.xml (70.59 Ko)
Télécharger le fichier
Origin : Publisher files allowed on an open archive