Fine-needle aspiration for diagnosis of tuberculous lymphadenitis in children in Bangui, Central African Republic
Background
Tuberculosis (TB) is a major cause of childhood morbidity and mortality in developing countries. One of the main difficulties is obtaining adequate specimens for bacteriological confirmation of the disease in children.
The aim of this study is to evaluate the adequacy of fine-needle aspiration (FNA) for the diagnosis of TB.
Methods
In a prospective study conducted at the paediatric hospital in Bangui in 2007-2009, we used fine-needle aspiration to obtain samples for diagnosis of TB from 131 children aged 0-17 years with persistent lymphadenitis.
Results
Fine-needle aspiration provided samples that could be used for bacteriological confirmation of TB. Ziehl-Neelsen staining for acid-fast bacilli was positive in 42.7% of samples, and culture identified TB in 67.2% of cases. Of 75 samples that were stain-negative, 49 (65.3%) were culture-positive, while 12 stain-positive samples remained culture-negative. Ten of the 12 stain-positive, culture-negative samples were from patients who had received previous antimicrobial therapy. With regard to phenotypic drug susceptibility, 81/88 strains (91.1%) were fully susceptible to isoniazid, rifampicin, ethambutol and streptomycin, six (6.8%) were resistant to one drug, and one multidrug-resistant strain was found.
Conclusions
Fine-needle aspiration is simple, cost-effective and non-invasive and can be performed by trained staff. Combined with rapid molecular diagnostic tests, fine-needle aspirates could improve the diagnosis of TB and provide valuable information for appropriate treatment and drug resistance.
Fichier principal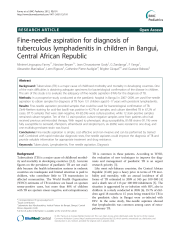 1471-2431-12-191.pdf (125.6 Ko)
Télécharger le fichier
1471-2431-12-191.xml (36.25 Ko)
Télécharger le fichier
Origin : Publisher files allowed on an open archive