Increased APOBEC3G and APOBEC3F expression is associated with low viral load and prolonged survival in simian immunodeficiency virus infected rhesus monkeys
Background
The cytidine deaminases APOBEC3G (A3G) and APOBEC3F (A3F) are innate cellular factors that inhibit replication of a number of viruses, including HIV-1. Since antiviral activity of APOBEC3 has been mainly confirmed by in vitro data, we examined their role for disease progression in the SIV/macaque model for AIDS.
Results
We quantified A3G and A3F mRNA in PBMC and leukocyte subsets of uninfected and SIVmac-infected rhesus macaques. Compared with uninfected animals, we found increased A3G and A3F mRNA levels in PBMC, purified CD4+ T-cells and CD14+ monocytes as well as lymph node cells from asymptomatic SIV-infected macaques. APOBEC3 mRNA levels correlated negatively with plasma viral load, and highest amounts of APOBEC3 mRNA were detected in long term non-progressors (LTNPs). During acute viremia, A3G mRNA increased in parallel with MxA, a prototype interferon-stimulated gene indicating a common regulation by the initial interferon response. This association disappeared during the asymptomatic stage.
Conclusion
Our findings suggest a protective effect of APOBEC3 for HIV and SIV in vivo and indicate regulation of APOBEC3 by interferon during early infection and by contribution of other, hitherto undefined factors at later disease stages. Elucidating the regulatory mechanisms leading to increased APOBEC3 mRNA levels in LTNPs could help to develop new therapies against HIV.
Fichier principal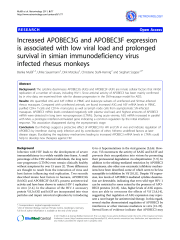 1742-4690-8-77.pdf (494.75 Ko)
Télécharger le fichier
1742-4690-8-77-S1.PDF (83.28 Ko)
Télécharger le fichier
1742-4690-8-77-S2.PDF (688.93 Ko)
Télécharger le fichier
1742-4690-8-77-S3.PDF (61.96 Ko)
Télécharger le fichier
1742-4690-8-77-S4.PDF (452.51 Ko)
Télécharger le fichier
1742-4690-8-77.xml (110.36 Ko)
Télécharger le fichier
Origin : Publisher files allowed on an open archive